Altitude 2,307m.YOKOTEYAMA is one of the mountains of Shiga Kogen, a part of the Joshinetsu Kogen National Park, which located on the southeastern tip of Shiga Kogen.Yokoteyama is famous as the ski resort in winter. In summer it is popular as a tourist spot where you can easily enjoy the superb view at the summit and see the beautiful sea of clouds, and you can use the lifts,or moving walkways(sky escalator),shuttle bus to moving.
標高2,307m。上信越高原国立公园的志賀高原中的一座山,位于志賀高原的南东端。冬季作为滑雪场而热闹的横手山。 夏天坐缆车或是移动道路(通天电梯)、也有送迎巴士,可以轻松攀登到山顶享受美景并能够观看云海,博得了很高的人气。
標高2,307m。上信越高原國立公園的誌賀高原中的壹座山,位於誌賀高原的南東端。冬季作為滑雪場而熱鬧的橫手山。 夏天坐纜車或是移動道路(通天電梯)、也有送迎巴士,可以輕松攀登到山頂享受美景並能夠觀看雲海,博得了很高的人氣。
Mountain View Terrace

满天景露天平台

滿天景露天平臺

Beside the lift station you can enjoy the superb view in Mountain View Terrace,also you can eat homemade cook baked goods『CRUMPET CAFE』 which is from England.We also recommended to spend a relaxing time enjoying the superb view at the summit.

和缆车站一起建造的可以享受山顶美景的露天平台,以及可以品尝源于英国的家庭烘焙点心『Curan pet cafe』。 也推荐一边观看美景一边悠闲享受。




和纜車站壹起建造的可以享受山頂美景的露天平臺,以及可以品嘗源於英國的家庭烘焙點心『Curan pet cafe』。 也推薦壹邊觀看美景壹邊悠閑享受。



Snow Monkey

雪猴

雪猴

You can go to the 『Paradise of the Monkeys JIGOKUDANI YAEN-KOEN』from Yokoteyam by bus,which has been popular with many people since the establishment of Jigokudani Yaen-koen in 1964. In the park you can observe Japanese monkeys in a hot spring and for ecological observation all the year.

从横手山乘坐巴士可以到达的『地狱谷野猴公苑』,自1964年开园以来由于通年可以近距离的观察日本猴因此非常受到大家的欢迎。生活在恶劣自然环境中的日本猴也知道在寒冷的冬天泡温泉, 近年来,作为雪猴受到世界各地游客的喜爱。



從橫手山乘坐巴士可以到達的『地獄谷野猴公苑』,自1964年開園以來由於通年可以近距離的觀察日本猴因此非常受到大家的歡迎。生活在惡劣自然環境中的日本猴也知道在寒冷的冬天泡溫泉, 近年來,作為雪猴受到世界各地遊客的喜愛。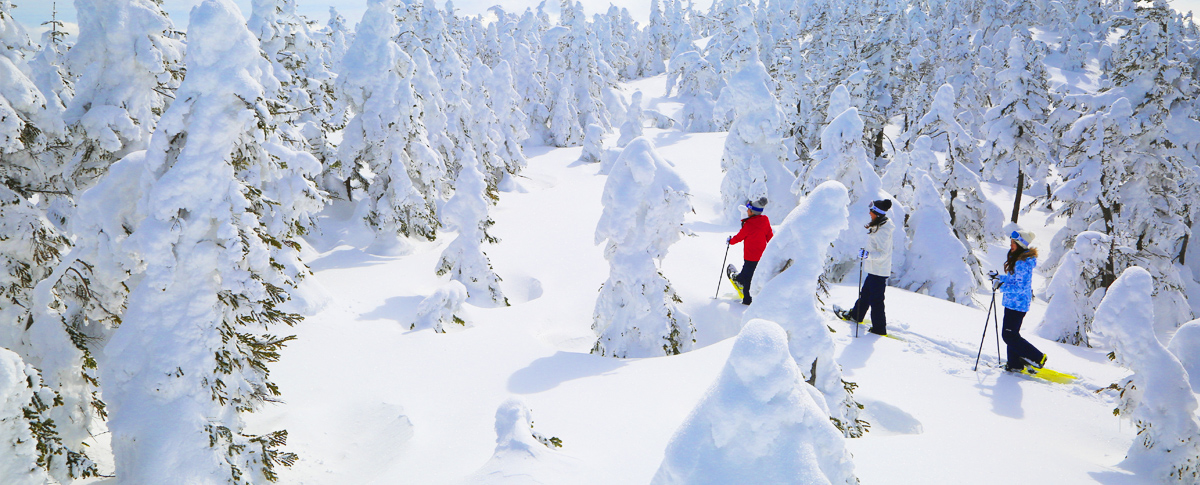 Yokoteyama is famous for ski,but you can also enjoy the art view『Tree Ice』created by Nature from December to March. 『Tree Ice』which can only be seen in a limited part of the limited season in Nagano,but in here,you can enjoy it bu walk,lifts or snow vehicles.
作为滑雪场而出名的横手山,12~3月之间可以享受大自然创造的艺术作品『树冰』。即使是在长野県也只能有一部分地区在限定的季节才能看到的『树冰』, 在这里可以边走边看,也可以乘坐缆车或者是雪上车来鉴赏。
作為滑雪場而出名的橫手山,12~3月之間可以享受大自然創造的藝術作品『樹冰』。即使是在長野県也只能有壹部分地區在限定的季節才能看到的『樹冰』, 在這裏可以邊走邊看,也可以乘坐纜車或者是雪上車來鑒賞。